7 Trends of a Hybrid Workplace
Trends are usually discussed at the beginning of the year, but it is the subsequent months that verify which of these end as an unimplemented concept and which stay with us longer. Become acquainted with our list of most visible trends in the workplace and decide for yourself which path will be consistent with your company and/or is the most urgent need of your business.
Trends are connected with a directed change in reality and the impact of such a change on us. Being aware of them allows us to make decisions in a well-conceived way and to design the new reality to meet our needs. Today – a reality of the hybrid place of work.
Trends of the hybrid workplace
For our list, we have chosen 7 key trends which constitute a synthesis of our experience of working with Customers and observing the recently occurring changes very carefully. These changes are not taking place independently of the workplace, but translate into our offices and the way we design them. Therefore, each of the main trends includes examples of sub-trends, which can be applied in a diverse way within a particular space.
The following review should be treated as a set of signposts to support you in finding your own goal toward an office supporting hybrid work.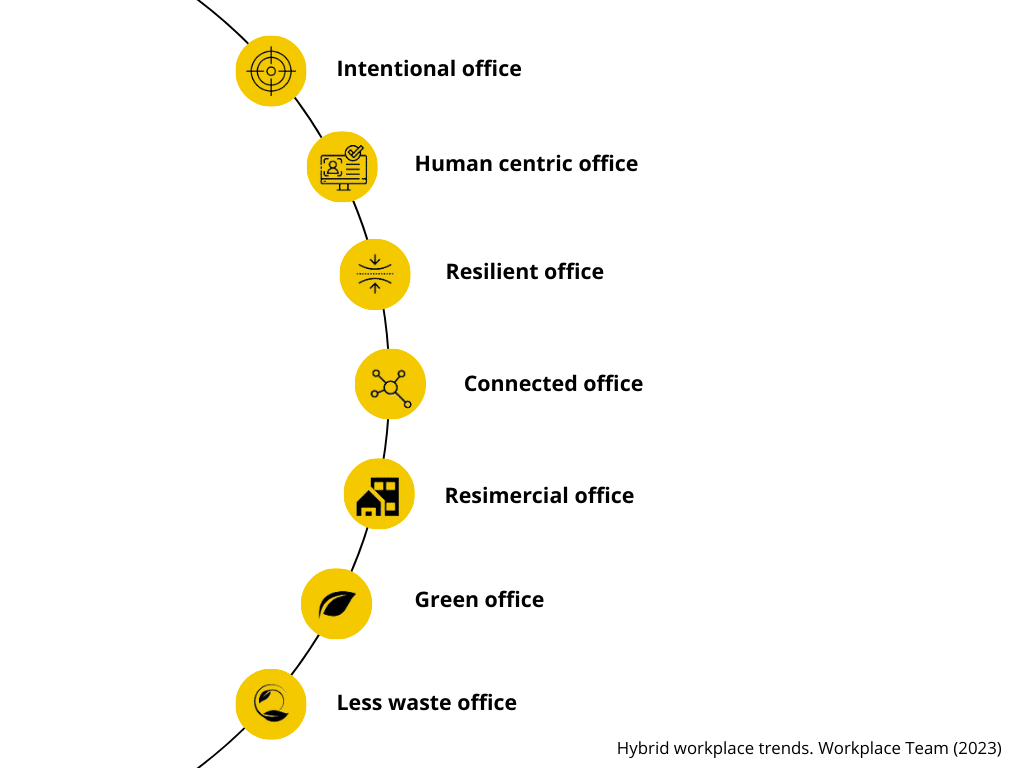 The Intentional office, i.e. an office as a place to support intentional work
In the hybrid model, we stop coming to the office "for the sake of coming" – this becomes a place of intentional work. Employees treat it in a nomadic, on-again/off-again way. It is one of many places where they can carry out their tasks. When asked to come to the office, they will expect to come with a concrete, specific purpose. It is on the company and its managers' role to clearly define this goal, and then adjust spatial solutions to support that.
The Human-centric office, i.e. an office that places the human being in the heart of everything
In a conscious hybrid workplace, the human is no longer a cog in the wheel. He or she becomes the centre of not only designed and undertaken activities, but also the functioning of an organisation as an entirety. Individual needs and preferences are naturally taken into account. The employee is respected in his or her entire diversity, including the context of creating the work environment and arranging solutions in the office.
The Resilient office, i.e. an office that is change resistant
The experience of the pandemic has shown how unpredictable the changes we experience can be. Therefore, it is important for hybrid offices to support building a resilient organisation that can adjust to all changes. This is reflected in flexible and easily modifiable solutions in the space, which is treated as a tool – a subsequent resource for work.
The Connected office, i.e. an office ensuring connectivity
The hybrid office is an office that supports connectivity between employees present in the office and those working from home. This connectivity includes not only appropriate technologies but also an accordingly designed space. These two elements are strongly connected and act as an intermediary in the conscious realisation of one's own tasks, regardless of where a given person may be at a given moment.
The Resimercial office, i.e. a home in the office
The pandemic has led to the blurring of private and work spaces with our homes becoming a place of work. A cosy, home-like ambience that had been prevailing over the recent years is currently being transmitted to office space. Owing to that we can frequently relax and co-operate in a natural way.
The Green office, i.e. where greenery becomes a natural part of the workplace
It has been known for a long time that experiencing nature has a beneficial effect on people. This improves our well-being – both at a mental as well as physical level. That is why greenery, natural materials, light, or natural elements have ceased to be merely a variety to our workplaces, but become a permanent part of our offices, a basic element of interior design.
The Less waste office, i.e. an office that cares for the environment
In the days of the climate crisis, ecological solutions aimed at caring for the environment have grown to be a necessity. The same pertains to designing office space. When we are planning a new office, it is worthwhile considering what will allow us to reduce our carbon footprint, how to maintain products within the circular economy, or how we can minimise the use of resources and generated waste.
How to implement the trends in your office?
The need of rearranging or creating new space in the office is an opportunity to bring about innovation, change certain rules, fossilised policies, or embed a new work model. It is worth considering which of the trends is consistent with your company and the users of the new office space as the use of the office will be then fully possible. 
One needs to remember that applying some of these trends without an adequately prepared workplace strategy (Workplace Strategy) and implementation does not guarantee efficiency and employee satisfaction.
How to find one's way in the labyrinth of tasks and decisions? Let's talk about your needs and work out solutions based on the newest trends together so as to implement these in your workplace.
Should you not be convinced that this is a good time for change, do not worry! We would be delighted to share our knowledge to support you with internal project discussions that you may be holding.
Izabella Azzato
Workplace Specialist