A new office is a change
that needs to be managed
A project of a new office or rearrangement of current space is a change for the organisation. Like any change – this brings about emotions amongst employees, it is linked with new rules, requires planning and implementation. Are you changing your office? How will you prepare your employees for this change? Do they know where and how they will be working? Have you appointed a person responsible for managing change in this project? Find out what is Workplace Change Management!
A new office means new possibilities. A well-planned and designed office develops a company, allows to introduce new rules, supports a new model of work, ensures better conditions, strengthens company culture and the effectiveness of its employees. New office space often means a new location, a new layout of rooms, new arrangement and furnishing. It is also a need of using new technology, work according to new rules and following a new model. And maybe this also means sitting next to someone else than up to now and even not at one's own desk, but a shared one.
The term "new" has appeared many times and may drive anxiety. What does "new" mean? Or more importantly, do you need and why do you need the "new"? If you are creating a new office, you need to be aware that this will constitute a change for employees. A change, that affects the known and liked structures and habits, and may bring about different reactions and behaviours. The way you manage this change will determine the success of the entire project.
Workplace Change Management in managing the project of a new office
A project of a new office is a number of tasks to be realised at different levels. It includes project management, its technical aspect, which is connected with controlling the budget, deadlines, supervising work and meetings, making decisions concerning arrangement or purchasing furnishing.
It is important, apart from the technical side of things, to take care of people. As the new office is meant to be for them – the final users. Activities in the scope of workplace change management cover supporting and accompanying employees in the planned change up to leading them smoothly from the current to the new work environment. Project management and change management are mutually interdependent. One cannot forget about people and manage change in a vacuum.
Why is it worth investing in Workplace Change Management during the process of changing the office?
It is worth treating a project of a new office as an implementation of a new tool for work as a well-designed office space may become such a tool. It is not only a question of adjusting it to the needs of the company and the final users, but also, or even particularly, to have it implemented properly.
For change to be successful, it is necessary to:
appropriately design the process of changing the workplace (including the availability of company internal resources, a specific vision of the office, and a strategy for its realisation),

implement it, i.e. prepare employees for the change of environment in which they are working. It is important for the change to be understood by them and accepted, whereas the atmosphere around the new office is positive. If we engage people in the process of creating new space, they will know how to use it in line with the initial vision.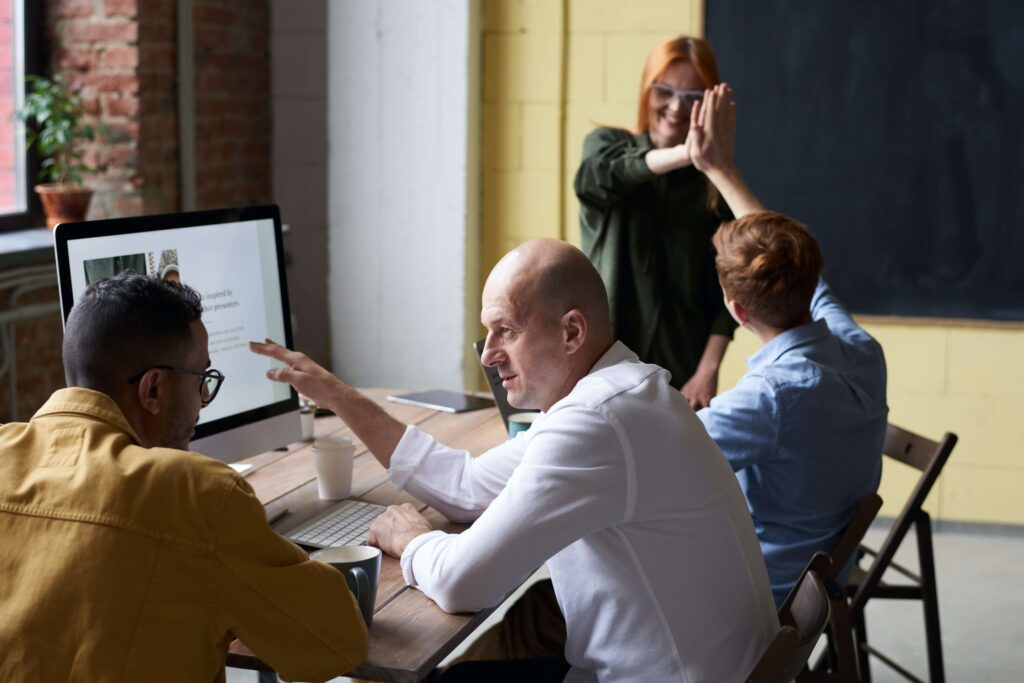 A change requires planning, but also adequate implementation. The latter aspect is rarely treated with due attention. However, it is the people who are the recipients of office change and should understand and accept it. When caring for them, it is necessary to undertake various activities that will directly influence the overall effect of the process. A project of a new office is usually time-consuming and costly. If it is well implemented, then the change in your company will be valuable and effective.
What will you gain by investing in Workplace Change Management?
Increase the probability of the project being successful,

support the management in introducing change,

minimize resistance amongst employees,

help them understand the sense of the change and adapt more easily to effective work in the new space,

smoothly lead your employees to the new space and at the same time teach the new rules or change old habits,

ensure consistent communication throughout the duration of the project.
An effective programme of workplace change management
A programme of workplace change management does not have to be complex, but needs to be adjusted to the organisation. This requires a comprehensive analysis of the essence of the planned change, its size and the recipients so as to adjust the scope of activities to the identified needs. 
There are several important elements that one should draw attention to each time and include in planning and carrying out the project of workplace change management. The most important element is… to start as early as possible. Change management is a process. It is best to avoid "fire-fighting" and allow for the systematic execution of the project.
The change, also the one related to the office, needs to be tightly connected with goals, project vision and expected results. Why are you changing office space? Is it the end of the office rent contract or is there something more? What elements of the current space do not work? Which solutions do not suit your needs? What do you want to achieve through change? Do you want to enhance some processes in the office? Is it communication, the atmosphere in the company, transparency, know-how flow, management style or innovation? Or maybe you want to improve the comfort and well-being of your employees? These are questions that need to be addressed at the very beginning so that subsequent actions are consistent with the overriding goals of the project.
10 elements of an effective workplace change management programme
Start as early as possible.

Define the vision and reason for the change.

Appoint a person or a project team that will manage change in your company. If you do not have such resources within your organisation, do employ external consultants.

Engage sponsors and stakeholders of the new office project in the change management process.

Prepare the leaders, let them become change agents! Appoint ambassadors representing particular departments and work with them throughout the entire project.

Plan and carry out communication by means of different channels to your project stakeholders.

Plan and carry out additional activities engaging employees in the project of the new office, like pilot programmes, solution testing, competitions, welcome packs, etc.

Be open to the comments and suggestions of your employees.

Celebrate small success and then moving to the new office itself.

Monitor the implementation of this change. Do not be afraid of evaluation and introducing minor modifications to the new office space.
How can Workplace Team support you in the process of managing change?
Our team of experts and consultants supports customers on a daily basis in the process of changing the workplace and culture. Your change would not be the first change that we shall be taking on. We have significant experience in managing varied projects, which allows us for effective realisation of all necessary steps that need to be undertaken to introduce and consolidate change. It is a frequent case that internal teams have limited resources, therefore activities connected with employees, communication and initiative are set aside. By working with external consultants, the company provides itself with cooperation based on a defined rhythm and following well-worked out and tested operation schemes.
Within Workplace Change Management we co-operate directly with the Project Group and support it in running the change project. As a result of training, recurring status meetings, preparation of a communication plan and designing employee engagement activities, the Project Group becomes equipped with ready materials and ideas to be applied. 
Our activities are also aimed at leaders and managers. It is they who should become the "face of change" and in an appropriate way communicate that to their teams and implement new ways of working. Due to working with this group, training, workshops and managerial coaching, the management become fully aware change agents that support their employees in the said process.
Although it is the task of the board and managers to be actively involved in the realisation of the project and treat it as an important element of strategy, the said process cannot take place at the very top behind closed doors. The employees should actively be involved in it. That is why we also run activities directly among employees. Participation workshops, education meetings, webinars, elements of social interaction, competition and engaging undertakings concerning the essence of the change are aimed at ensuring good information flow and increased identification with the project. Naturally, each organisation should decide to what extent it wants to engage its employees so that this is consistent with project goals and company culture. Employees can be included in the project in many ways, which brings about very positive effects. 
Do you need support? Discover our workplace services and find out how we can help you!
When is it a good idea to engage an external consultant?
When you do not have sufficient resources to carry out the change project,

when deadlines in the project are tight and you need reliable solutions,

when you feel that you would need the support of an expert,

when this is your first company change of an office and you need someone to draw the direction to follow.